Sepak Takraw Saskatchewan T-shirt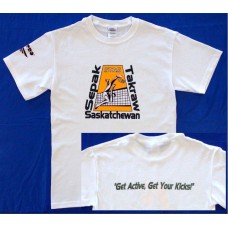 - Gildan, 100% cotton, pre-washed.
- Colours available, WHITE only.
- Available in sizes S, M, L, XL.
- Bright, three-colour graphic of spiker inside the shape of Saskatchewan province on the front of the shirt.
- Back of T-shirt (across shoulders): written in green text, "Get Active, Get Your Kicks!".
Write a review
Your Name:
Your Review:
Note: HTML is not translated!
Rating:
Bad
Good
Enter the code in the box below: