Takraw Canada T-Shirt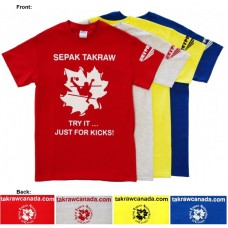 - Gildan,100% Cotton, preshrunk.
- Colours available in: RED, ASH, FLORESCENT YELLOW, ROYAL BLUE.
- Available in sizes: S, M, L, XL.
- Sun Back Spiker graphic inside Maple leaf on front, with "SEPAK TAKRAW" above and "Try it ... Just for Kicks!" below the graphic.
- Back of T-shirt: "takrawcanada.com" written across shoulders, with STAC Seal (spiker inside the maple leaf with "Sepak Takraw Association of Canada" written in circular form all around it) beneath.
NETPRO has some of the most unique and lowest priced Sepak Takraw T-shirts and Jerseys available anywhere. Nothing lets the world know that you are a Sepak Takraw enthusiast like wearing a very cool shirt that shows it!
Write a review
Your Name:
Your Review:
Note: HTML is not translated!
Rating:
Bad
Good
Enter the code in the box below: